Pandemia de medo e Covid-19: impacto na saúde mental e possíveis estratégias
Downloads
Não há dados estatísticos.
Referências
Tucci V, Moukaddam N, Meadows J, Shah S, Galwankar SC, Kapur GB. The forgotten plague: psychiatric manifestations of ebola, zika, and emerging infectious diseases. J Glob Infect Dis. 2017;9:151-6.
Morens DM, Fauci AS. Emerging infectious diseases: threats to human health and global stability. PLoS Pathog. 2013;9:e1003467.
Morens DM, Folkers GK, Fauci AS. Emerging infections: a perpetual challenge. Lancet Infect Dis. 2008;8:710-9.
Bloom DE, Cadarette D. Infectious disease threats in the twenty-first century: strengthening the global response. Front Immunol. 2019;10:549.
Malta M, Rimoin AW, Strathdee SA. The coronavirus 2019-nCoV epidemic: is hindsight 20/20? EClinicalMedicine. 2020;20:100289.
Ferguson NM, Laydon D, Nedjati-Gilani G, ImaiN, Ainslie K, Baguelin M, et al. Report 9: Impact of non-pharmaceutical interventions NPIs) to reduce COVID19 mortality and healthcare demand [Internet]. 2020 Mar 16 [cited 2020 Mar 19]. www.imperial.ac.uk/media/imperial-college/medicine/sph/ide/gida-fellowships/Imperial-College-COVID19-NPI-modelling-16-03-2020. pdf
Cascella M, Rajnik M, Cuomo A, Dulebohn SC, Di Napoli R. Features, evaluation and treatment coronavirus (COVID-19). StatPearls, Treasure Island: StatPearls PublishingStatPearls Publishing LLC.; 2020.
Peeri NC, Shrestha N, Rahman MH, Zaki R, Tan Z, Bibi S, et al. The SARS, MERS and novel coronavirus (COVID-19) epidemics, the newest and biggest global health threats: what lessons have we learned? Int J Epidemiol. 2020 Feb 22.pii: dyaa033. doi: 10.1093/ije/dyaa033. [Epub ahead of print]
Garcia R. Neurobiology of fear and specific phobias. Learn Mem. 2017;24:462-71.
Shin LM, Liberzon I. The neurocircuitry of fear, stress, and anxiety disorders. Neuropsychopharmacology. 2010;35:169-91.
Shigemura J, Ursano RJ, Morganstein JC, Kurosawa M, Benedek DM. Public responses to the novel 2019 coronavirus (2019-nCoV) in Japan: mental health consequences and target populations. Psychiatry Clin Neurosci. 2020 Feb 8. doi: 10.1111/pcn.12988. [Epub ahead of print]
Reardon S. Ebola's mental-health wounds linger in Africa. Nature. 2015;519:13-4.
Shultz JM, Cooper JL, Baingana F, Oquendo MA, Espinel Z, Althouse BM, et al. The role of fearrelated behaviors in the 2013–2016 West Africa ebola virus disease outbreak. Curr Psychiatry Rep. 2016;18:104.
Wang Y, McKee M, Torbica A, Stuckler D. Systematic literature review on the spread of health-related misinformation on social media. Soc Sci Med. 2019;240:112552.
Wang C, Pan R, Wan X, Tan Y, Xu L, Ho CS, et al. Immediate psychological responses and associated factors during the initial stage of the 2019 coronavirus disease (covid-19) epidemic among the general population in China. Int J Environ Res Public Health. 2020 Mar 6;17(5). pii: E1729. doi: 10.3390/ijerph17051729.
Brooks SK, Webster RK, Smith LE, Woodland L, Wessely S, Greenberg N, et al. The psychological impact of quarantine and how to reduce it: rapid review of the evidence. Lancet. 2020;395:912-20.
Xiang YT, Yang Y, Li W, Zhang L, Zhang Q, Cheung T, et al. Timely mental health care for the 2019 novel coronavirus outbreak is urgently needed. Lancet Psychiatry. 2020;7:228-9.
Maunder R, Hunter J, Vincent L, Bennett J, Peladeau N, Leszcz M, et al. The immediate psychological and occupational impact of the 2003 SARS outbreak in a teaching hospital. CMAJ. 2003;168:1245-51.
Park SC, Park YC. Mental health care measures in response to the 2019 novel coronavirus outbreak in Korea. Psychiatry Investi g. 2020;17:85-6.
Novel Coronavirus Pneumonia Emergency Response Epidemiology Team. [The epidemiological characteristi cs of an outbreak of 2019 novel coronavirus diseases (COVID-19) in China]. Zhonghua Liu Xing Bing Xue Za Zhi. 2020;41:145-51.
Wang Y, Wang Y, Chen Y, Qin Q. Unique epidemiological and clinical features of the emerging 2019 novel coronavirus pneumonia (COVID-19) implicate special control measures. J Med Virol. 2020 Mar 5. doi: 10.1002/jmv.25748. [Epub ahead of print]
Kang L, Li Y, Hu S, Chen M, Yang C, Yang BX, et al. The mental health of medical workers in Wuhan, China dealing with the 2019 novel coronavirus. Lancet Psychiatry. 2020;7:e14.
Huang JZ, Han MF, Luo TD, Ren AK, Zhou XP. [Mental health survey of 230 medical staff in a terti ary infecti ous disease hospital for COVID-19]. Zhonghua Lao Dong Wei Sheng Zhi Ye Bing Za Zhi. 2020;38:E001.
Dieltjens T, Moonens I, Van Praet K, De Buck E, Vandekerckhove P. A systemati c literature search on psychological fi rst aid: lack of evidence to develop guidelines. PloS one. 2014;9:e114714.
World Health Organizati on. Global Health Esti mates 2016: disease burden by cause, age, sex, by country and by region, 2000-2016. Geneva: WHO; 2018.
Center for Disease Control and Preventi on. Mental health and coping during COVID-19. Atlanta: CDC; 2020.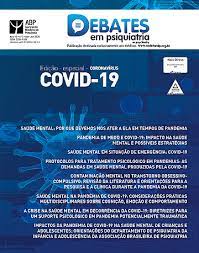 Downloads
Como Citar
1.
Ornell F, Schuch JB, Sordi AO, Kessler FHP. Pandemia de medo e Covid-19: impacto na saúde mental e possíveis estratégias. Debates em Psiquiatria [Internet]. 30º de junho de 2020 [citado 1º de junho de 2023];10(2):12-6. Disponível em: https://revistardp.org.br/revista/article/view/35
Licença
Este trabalho está licenciado sob uma licença Creative Commons Attribution-NonCommercial 4.0 International License.
Debates em Psiquiatria permite que o (s) autor (es) mantenha(m) seus direitos autorais sem restrições. Atribuição-NãoComercial 4.0 Internacional (CC BY-NC 4.0) - Debates em Psiquiatria é regida pela licença CC-BY-NC